Helping facilities managers stay on top of maintenance and compliance.
Octopus is a comprehensive property management app, designed for busy property owners, managers and engineers like you. Manage maintenance and compliance in one central app.
---
Trusted every day by clients like these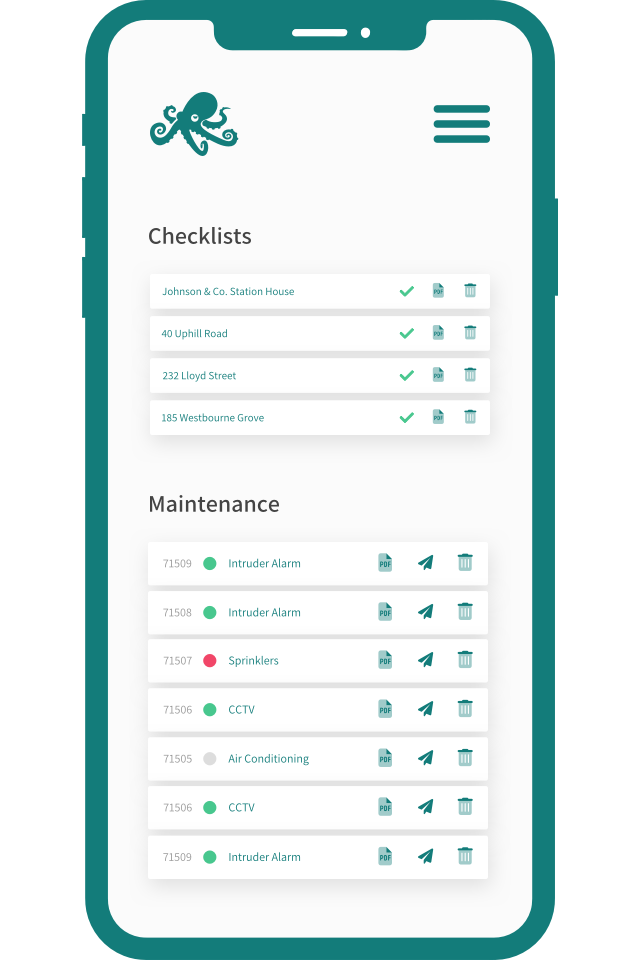 Easily monitor property maintenance and compliance, anytime anywhere
Get detailed breakdowns with real-time data on maintenance, jobs and checks on all your properties.
Properties
Create a list of properties, and manage clients, maintenance and compliance for each one.
---
Assessments
Create and manage assessments (e.g. Fire Safety) for each property, and assign engineers.
---
Maintenance
Schedule planned maintenance on everything from air conditioning to alarms and sprinkler systems.
---
Checklists
Our experienced engineers can perform regular checks on alarms, emergency lighting and more.
---
Jobs
Arrange repairs, replacements or installations. View job sheets when they're done.
---
Subcontractors
Find skilled subcontractors in your area by searching our growing subcontractor directory.
---
Ready to improve your property maintenance and compliance management?